when posting pics all you need to do is click the Image button in the banner
if using google images, click on the picture and then click on View Image button
it will open the picture and have the direct link in the URL at the top:

copy that link
then click on the Image button above

Copy the url of the picture in to the Image Properties URL Box

PASTE URL like below...

then click
OK
at the bottom right corner.
The harder way is like this,
if you have photobucket or any other image hosting site
go to the url area to copy the URL like photobucket for example
photobucket has a SHARE Links section next to the picture you want to use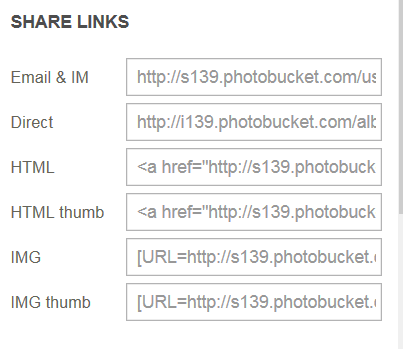 For this way of posting pics i click on the
DIRECT
url link to post in my pics
click on the direct link and or copy the url to the pic you want to post.
click in the reply or post section where you would type a response to a post the same area to post pics in on our SQC site.
what needs to be typed TYPE:

EXAMPLE:

no spaces in the IMG or /IMG or it will not work ( NOTE i cannot type brackets or it will error from what i am trying to show you)
no space between the bracket and your URL either.
if the above is done properly it should look like this:::