Well everyone I have switched over to selling Lucas injectors. Since Delphi was bought out by GM the are just about impossible to get. The new sizes are a 750cc primary and a 1000cc secondary and they are still a direct bolt in replacement. There are no modifications necessary to the mixer housing or fuel rail.
The price as of 3-14-13 will be $186.00 shipped.
PLEASE BE AWARE THAT THESE INJECTORS CANNOT BE PAIRED WITH THE FACTORY STOCK MITSUBISHI FUEL INJECTORS. THE INJECTOR'S ARE ABOUT A 1/4" TALLER SO THE UPPER FUEL RAIL WILL NOT MOUNT UP PROPERLY.
The sizes that I have available are 550cc, 750cc, 850cc, 950cc, 1000cc, 1050cc, 1150cc, 1225cc, 1400cc, 1600cc and 1680cc.
Size ----------- Cost
550cc ----------- $70.00 ea. (Lucas)
750cc ----------- $85.00 ea. (Lucas)
850cc ----------- $85.00 ea. (Lucas)
950cc ----------- $90.00 ea. (Lucas)
1000cc ---------- $90.00 ea. (Lucas)
1050cc ---------- $90.00 ea. (Delphi) ( PM For Availability )
1150cc ---------- $95.00 ea. (Delphi) ( PM For Availability )
1225cc ---------- $100.00 ea. (Lucas)
1400cc ---------- PM for current pricing (Bosch)
1600cc ---------- PM for current pricing (Bosch)
1680cc ---------- $115.00 ea. (Lucas)
I ALSO CARRY THE 2200cc BOSCH INJECTORS "Aka : ID2000" - $185.00 ea.
ALL INJECTORS COME WITH A 3 YEAR MANUFACTURER REPLACEMENT WARRANTY
Anyone interested speak now or forever be looking for used injectors...
WHEN YOU ARE READY TO PURCHASE THE INJECTOR KIT PLEASE SEND ME YOUR PAYPAL E-MAIL ADDRESS AND I WILL SEND YOU AN INVOICE
UPDATE : If your actual shipping address is not the same as your Paypal address please have it updated before sending payment. I WILL NOT SHIP TO AN UNCONFIRMED ADDRESS OR ANY ADDRESS OTHER THAN WHAT IS LISTED ON THE PAYPAL PAYMENT INVOICE.
If you don't have a Paypal account USPS money orders ONLY are also accepted.
Here are some pictures for you to see them installed in my fuel rail and mixer housing.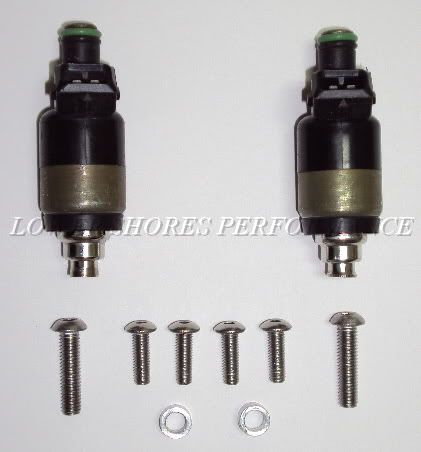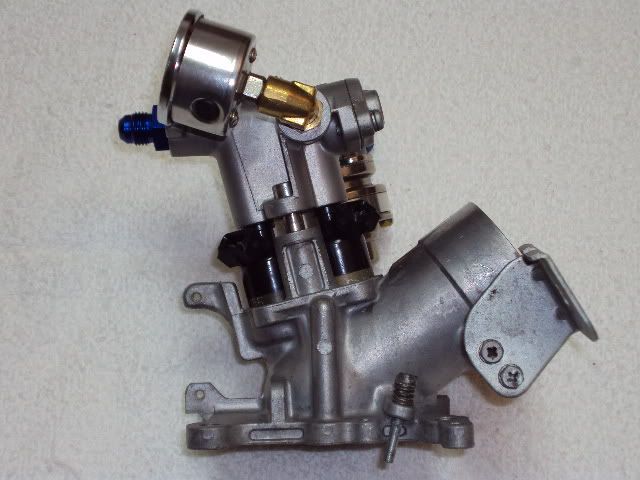 I'VE DECIDED TO SWEETEN THE DEAL A LITTLE MORE SO I HAVE ADDED TO THE GP THESE SUPER SEXY STAINLESS STEEL BUTTON HEAD ALLEN BOLTS FOR THE UPPER FUEL RAIL, PULSATION DAMPER AND THE FUEL LINE.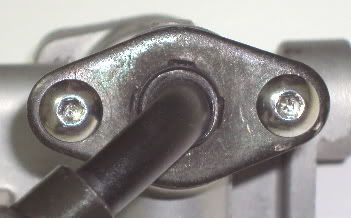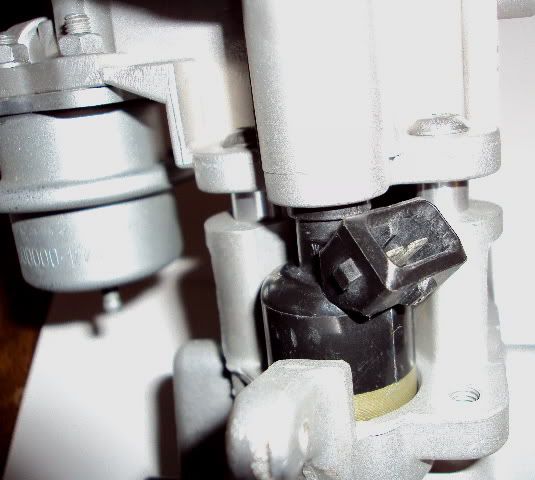 PLEASE REMEMBER TO LEAVE FEEDBACK WHEN YOU GET YOUR INJECTORS INSTALLED
MY FEEDBACK LINK
=====================================================================================================
Hello Everyone, I want to take this time to give a little update on the injectors. This GP has gone very well and the majority of people who bought injectors from me are extremely happy with them.
Now, on the other hand there are some people who bought injectors from me and haven't had such good results. They were claiming the injectors were leaking, they didn't work, the car wouldn't idle, the car ran rough and wouldn't boost... just to name a few. After the injectors get sent back to me I send them back to my supplier to get tested and I found that every injector was filled with crud from a dirty fuel system, a dirty fuel system that most likely damaged the injectors that were in the car initially. I'm sorry to have to say this but
BRAND NEW INJECTORS FILLED WITH CRAP IS NOT CONSIDERED PART OF THE THREE YEAR WARRANTY
Below you can see a brand new set of injectors I got back from someone claiming that "they don't work". They were so clogged up one barely dribbled and the other one was more like a squirt gun.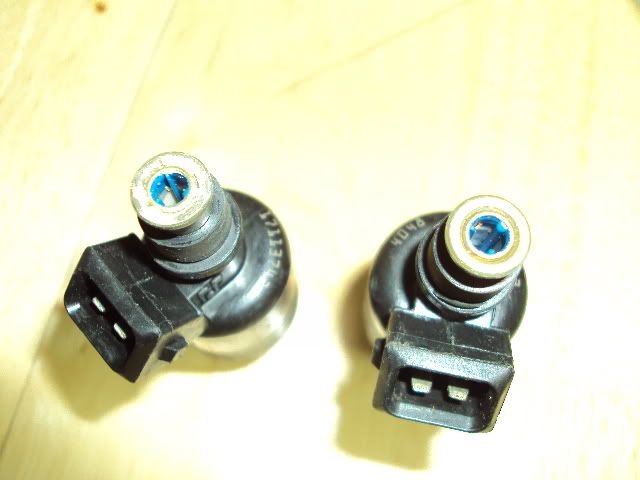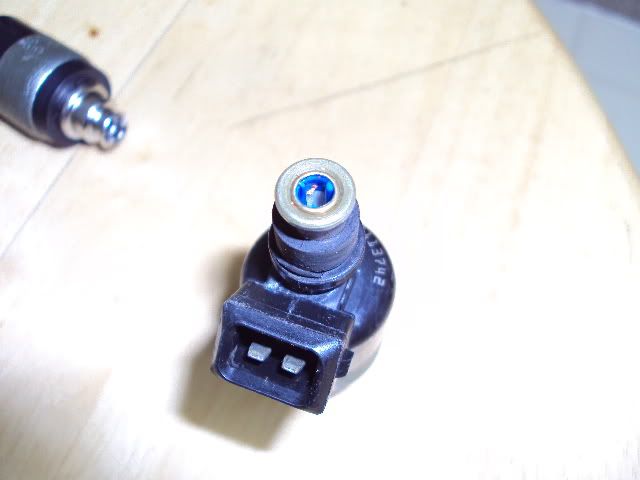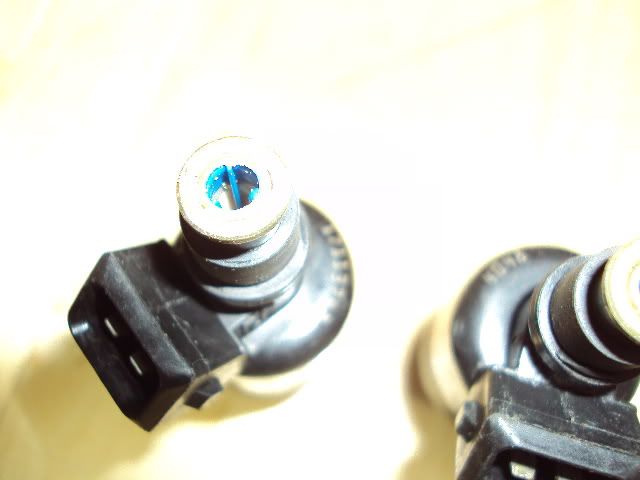 With that said I want to make this very clear, if you buy a set of new injectors and you do not take the time to at least change the fuel filter, flush out the fuel feed line after the filter and flush out the upper fuel rail and I find that the injectors got clogged up with crap YOU WILL NOT just get a new set. You will either be paying to get them cleaned which I do not do at my shop, they are sent back to my supplier for that and I get charged for it or you will be paying for a new set if they cannot be cleaned / repaired. I have had several sets already that were damaged beyond cleaning and I was good enough to replace them but its happened too many times and my supplier can't keep handing out new injectors because someone didn't bother taking the necessary steps to get their fuel system into shape before installing them.
I do understand there are rare instances when an injector IS just bad whether it be a bad coil or something internal just wasn't right BUT the injectors I sell are put through a full spectrum of tests before I get them and I further leak test, OHM test and spray test them before I ship them out. So when someone emails me right after they get the injectors and says, HEY these don't work or says they leak I get this really strange look on my face because there is no way they can work here in my shop but after traveling in the mail to their house now they aren't working. Logic suggests that something happened AFTER they reached their destination and when I get them back the truth will be known.
Ok, thats all for now and if anyone needs a set please let me know.
Take care
Brian
Edited by brianpaul98, 02 September 2015 - 11:44 AM.