I heard alot of things about the plastic knock box having problems and dismissed them because I was not having the problem, until that day when my car died when I shut the hood. Then it wouldn't start, then it died at least 2 times a day until I finally got sick of it and formulated a plan. My plan (since I'm usually poor and impatient) involved fixing the knock box I had instead of getting a new one. I searched all over SQC for an account of someone cracking one of these things open and fixing the bad solder joints within, to no avail. I was ready to break some new ground and crack this thing, because if I didn't and my fix didn't work, chances would have been I would need a ride home from work that day.
I imagine this fix will only work if you have the common symptoms of a bad knock box (won't start unless you jiggle the plug, dies randomly, etc)
Tools needed:
Solder pen
Solder with flux built right in
Grinder or dremel and a good eye
Patience
Screwdriver
Solder wick or solder sucker (if you mess up)
Light so you can see what you're doing
Hot glue or silicone
Est. price for the average do-it-yourselfer - $0
Avg. time - 1 hour
(taken from an earlier post)
My car is dying all the time because of the stupid thing so I decided if it's just a bad solder joint what's the point of shelling out at least $100 for a new metal one if I can fix mine for free. (Thank my dad for this, he is religious about fixing bad solder joints in his profession)
I pulled it out and took the plastic side that looks glued on in to the grinder and ground off the edges (4 edges to the box, I ground off the 3 opposite of the connector edge, then just snapped the fourth edge off) that holds it on just enought to expose the circuit board and all of the solder joints. There are 8 larger joints on the side of the external connector and I believe those to be the culprit. Especially the one all the way to the left, as I saw some corrosion on the pin from arcing. I didn't want to take any chances so I just resoldered every single connection on that board. I realigned what was left of that plastic panel and hot glued it (only if you relocate your box! if you don't,
USE HIGH TEMP SILICONE - HOT GLUE WILL NOT WORK UNDER YOUR HOOD
). So far it has started up 30 or so times for about 3 days straight and hasn't had any of the symptoms since so I'm hoping this problem has been solved, at least for some time.
My next step is to extend all of the wires in that harness about 3 or 4 feet and run them through the firewall. I want to mount that box somewhere under dash where it's nowhere near as hot and the vibrations, moisture, oils and dirt shouldn't be as bad. I just finished doing this and it works like a charm. If you hold the box and let your car idle you can feel the relay clicking every once in awhile.
Tools needed:
Three 4ft lengths of 14ga shielded wire
Four 4ft lengths of 14ga stranded (not solid) wire
One 4ft length of 12ga stranded wire
Roll of 3M Super33 Electrical tape
Solder
Solder Gun
(2) Crimp on Ring terminals
Self tapping screws
Unibit and grommet (for hole in firewall)
4-5ft 3/4" Split loom
Zip ties
A good imagination
Est. Price - $20-$30
Est. Time - 1-3 hours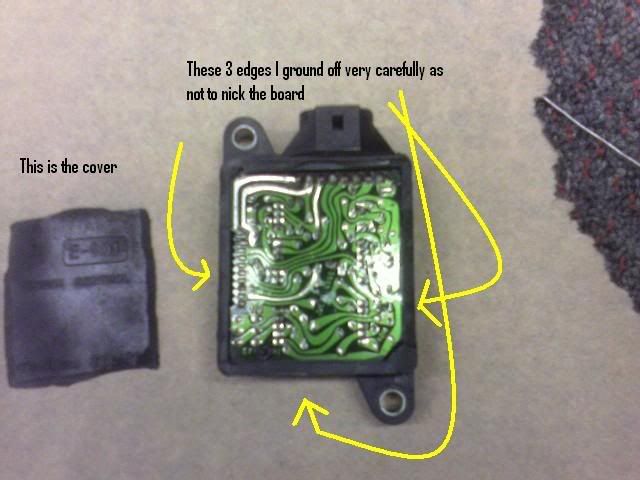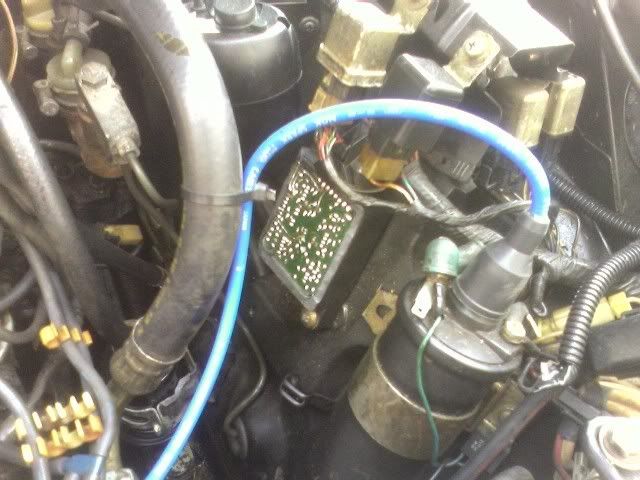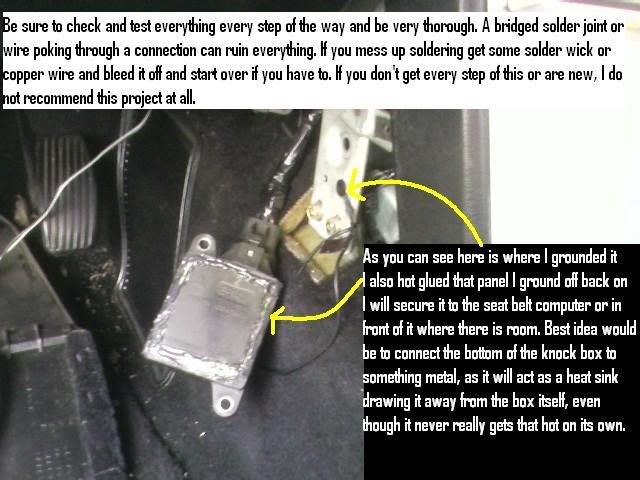 Thanks for reading everybody and I hope this helps. I bet there are alot of broken boxes lying around waiting to be resurrected!
Eric G