I was told by some people that it does not come apart so here is a little info
The joint is held together by this clip on the inside...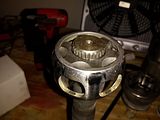 To overcome it use a punch and hammer on the race (star shaped thing)....
I used a prybar like this. You can actually lay it on the floor or bench and get it once with a good size hammer and it will pop right apart...
Going back together is the same concept, help the circlip by collapsing it a little initially..get it in the groove...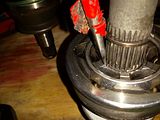 Then do this...a dead blow hammer or soft hammer might be preffered but if you just give it one good hit it will go home and not hurt a thing
Lube the shaft first as well...
The cage and ball can come in/out too...
To get the balls out use a big shaft or screwdriver to angle the race and cage at extremes....this is how they go in and come out...do one ball and then do the one directly across from it. you will be temped to get the others out that are expose when you do this but trust me this is the best way.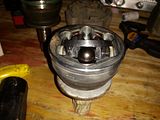 One all the balls are out the cage and race will come too. Two things to be aware of here is the large slots in the cage....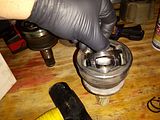 And the cage has an inner and outer part two separate I.D. dimensions. Bigger one outside...
The larger slots in the cage is your key to getting the race out and then next the cage with come too.
More pics here
http://s1187.photobu...d?sort=3&page=1
assistance is always nice tooo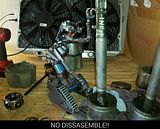 Edited by JohnnyWadd, 11 September 2014 - 04:27 PM.