EDIT: February 2021
Thread has now been relinked to the photos. Note that the photos are direct URLs to the picture stored on a different site. In some cases, the photo may be cut off, rotated, or skewed from the original. If you have trouble viewing it, simply click the photo and it will open full size on a new tab in your browser
The following thread is a step by step instruction on rebuilding a 1988/1989 conquest/starion KM132 manual transmission. These steps may be used as a guideline for earlier year transmissions; although there are some differences.
Please note

:
I am not a mechanic who works on cars day in and day out! I don't have an unlimited supply of specially tooling! I am an auto enthusiast/backyard mechanic like the majority of us on this site. I've done my best to document how I performed this particular rebuild using mostly
standard hand tools
and the factory service manuals as my guideline. If you see something in error, please respond via PM. If you see something that may be performed in a simpler fashion, again please respond.
I have been receiving many requests from club members asking if I would consider rebuilding their parts per the steps shown in these 'how-to' threads. Although I am humbled at your trust in my abilities to rebuild such critical parts of your vehicle, I respectively have to decline any such requests. With a family of four, a demanding career, and just the normal responsibilities in everyday life, I have difficulty in finding time to work on my own project vehicles much less take on additional work. However, I encourage you to review the thread in detail, try to gather the required parts and tools, and attempt to rebuild the items on your own. My goal in developing these threads was to give members the encouragement to perform these component rebuilds at home while gaining valuable experience, saving some $, and simply having fun with the hobby. I hope by sharing this information and by including my own trials and mistakes along the way, help to achieve these goals.
Background

:
This particular rebuild was to freshen up my 88/89 KM132 manual trans. This transmission had about 90k miles on it when removed from the vehicle. I didn't recall any issues with this transmission when it was in my car. The purpose of the rebuild was simply to refresh the transmission with some new synchronizers, bearings, gaskets, and seals hopefully to result in many more years of operation.
Reference:
PQ's thread in the SOS forum:
http://starquest.i-x...6fee35e71adcd83
First and foremost

:
YOU NEED THE
FACTORY MANUALS
and the PARTS MANUALS! If you do not have these, get them. They are downloadable on several starquest sites and are also on ebay constantly for a very low price. NOTE: The 88 factory service manuals that are downloadable on the sites appear to be missing a few pages in the manual transmission section! For this reason, I was using my hardcopy 87 manual for most of the rebuild, particularly with the disassembly. This led me down the wrong path at one point, costing me a lot of unneeded time and developing a tool that I didn't need….follow along for more detail.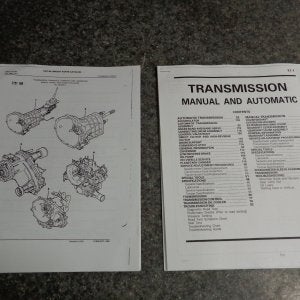 Parts required

:
Please follow the thread to list the required parts for this rebuild. At a minimum you will need the input bearing, center bearing, output bearing, and both countershaft bearings (the input and center bearings are specific to the year of the transmission). You will need all six synchronizers. I recommend that you purchase new shift forks as well. You will most likely need a few shims for your countershaft (follow along with the thread). Plus gaskets and seals. There are several needle roller bearings in this transmission…I'll leave that up to you on whether or not they need replaced. I replaced all but one of mine (was NLA from Mitsu) although my originals were in good shape and probably could have been reused. You will possibly need a new rear retainer as well.
Source of parts

:
manualtransmissionpart.com has many aftermarket parts for our transmissions. They have full rebuild kits…although don't buy the 88/89 rebuild kit! It doesn't have the right center bearing in it which is one of the most expensive parts in the kit. Although you can buy the input, output, and countershaft bearings from them. They have all of the shift forks, one of the needle roller bearings, seals, and synchronizers. Note: our 1
st
and reverse synchronizers are slightly different than the ones this site sells…thus I bought these from Mitsu…although I don't believe there would be a problem using theirs (follow along in the write-up).
For most of the other parts, I went directly with Mitsu. One item of concern is the countershaft shim….they don't make a shim kit! You must purchase each shim separately…and they come from Japan! To make it worse, they are expensive and you don't really know what size you will need until you are back in the reassembly phase!
Another source of bearings is motion-industries. Some of the bearings are available thru them but you must have the bearing manuf. part number.
I purchased the high strength roll pins for the shifter forks and the retainer hardware through mcmaster-carr.
Tooling Req'd

:
This rebuild required a really good set of pullers. Prior to this I invested in a puller kit. It was expensive but it has paid for itself on this project and several others since. Unfortunately you still need to either find the true Mitsu puller with extension rods for removing the center bearing (such as what PQ did on his thread) or make a custom puller (the route I went).
Starting Point

:
I started with the transmission removed from the car and the following parts previously taken off: pan, rear steel yoke protector (it just pulls off), speedo gear assembly, clutch throughout bearing/fork, and reverse switch (don't lose the steel ball behind it!).
As seen in the photos, I thoroughly cleaned the outside of the tranny and bell housing area prior to taking anything apart. I don't like to introduce any un-needed debris into the transmission even during disassembly. For this, I used simple green first and then mineral spirits. I probably went much farther in cleaning than the typical member here because I wanted to paint the components in the process.