EDIT: February 2021
Thread has now been relinked to the photos. Note that the photos are direct URLs to the picture stored on a different site. In some cases, the photo may be cut off, rotated, or skewed from the original. If you have trouble viewing it, simply click the photo and it will open full size on a new tab in your browser
There have been a few threads over the past few months pertaining to the installation of a redi-sleeve for the rear main seal on the crankshaft. I had a chance to upload the photos from when I installed mine.
Feel free to vet the following process and advise of anything you would do or have done differently.
Regards,
kev
Background:
These photos were taken during the assembly of my current engine build. Obviously the engine is on a stand and the stand was rotated about 45 degrees to aide in the process. Of course, this process may be done with the engine in the car and trans/flywheel out....but I will say that it will be marginally difficult based on my experience.
Also I should note that I first installed a different sleeve, felpro brand. The felpro sleeve didnt have a flange and was much smaller in depth. After installation of that sleeve, I ended up knicking it up a bit and didnt like how it fit, so I pulled it off and went with a National brand sleeve.
Process:
Starting point: rear main seal carrier is off, crank is cleaned up. You can see the groove here. The machinist who worked on my block/crank said that this groove would probably be ok, but I didn't like it..hence the install of the sleeve. The black goop you see in the groove is leftover sealant from the felpro sleeve that I pulled off. Naturally you want to get the crank crystal clean, but I wasnt too concerned about the slight remaining sealant.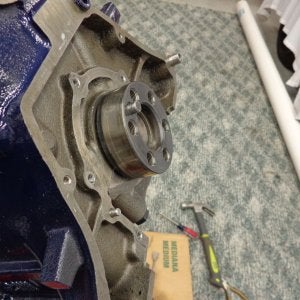 Also note the cleanliness of the carrier flange gasket mounting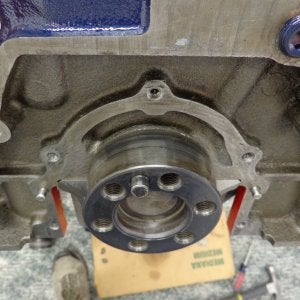 Here is the redi-sleeve that I used. I bought this from advance auto on one of those save 25% on a $100 order days.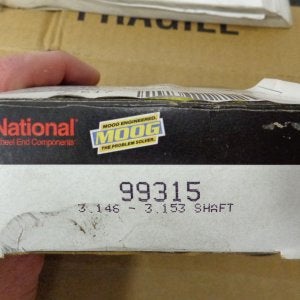 Opening it up; it has the sleeve, a tool, and install instructions. Looks like this kit has been laying around for awhile;will need cleaned up good prior to install