Hey All,
Feel free to text or PM me about the parts and I'll reply asap. I've some of these parts in storage so it might take me a day or two to get you some pics. Please provide zip code for shipping estimates and include your address when sending Paypal. Add 3% to cover Paypal fees or you can gift it. More pictures and parts to come.
Rob
9099085313
Woodystiles@gmail.com
Paypal: Woodystiles@gmail.com
PARTS AVAILABLE
:
(1)88' transmission waffle pan- $25
*DM- 3" Exhaust(flat on bottom from speed bumps)with a magnaflow 3" in/out muffler- $200
84' Rubber shift knob- $20
(2)88' Rubber shift knobs- $20ea
Clean Gas Tank (Local Pickup)- $120
Passenger Side Front Black Starion Floor Mat- $20
Rear Hatch Speaker Decks with Infinity 4"x6" speakers- $30
(
1
) Turbo Heat Shield- $25
Repaired, heat wrapped and stress relieved exhaust manifold(needs to be resurfaced on head side)- $80
(2) TBI throttle body top hats- $10each
(2) Intake manifolds- $30each
(1)solid crank pulley with AC guide- $40
220mm flywheel with surface rust - $20
Driver side/Passenger side windows- $80
(2) stock 12a turbos (no hotside/rebuild candidates)- $30 each
(1) grey rubber shifter boot- $20
86 plastic ignitor box- $40
(2) 88/89 metal ignitor box- $40
(1) 88/89 distributor- $50 each
(1) 84 ECU- $75
(1) 86 ECU- $75
(2) 88 ECU- $75
(1) secondary fan- $30
(1) primary fan - $40
Grey Radio bezel w/garage door compartment-$80- No cracks
rear hatch and gas door cable- $30- Comes with handles
(1)83' front 4 lug wheel(not sure of size)- $30
(2)Painted 16x8 rears- $60 each
(2)Painted 16x7 fronts- $40 each
(1)Stock 16x7 front- $40
(1) repaired SHP 16x9 rear- $150 (Pending)
(4) Polished SHP 16x9 rears(polished inside and out) -
$
1,200
(1) Privacy hatch cover- $50
Misc rubber, odds and ends- .50-5$ (obo) + shipping
PARTS SOLD:
*DM 6 piece Polished Aluminum hard pipe kit with TurboXS recirculating bypass valve- $350 SOLD
*DM 4" Aluminum Intercooler- $250 SOLD (Louswheel)
*DM modified stock intercooler - $60 SOLD (Couth'nize)
*DM- Radiator- $250 SOLD (1987 Conquest)
MSD 6AL w/tach adaptor and master blaster coil- sold (chassispuke)
Polished Mitsu Valve Cover- sold (chassispuke)
88' Primary and Secondary Injector- $120 SOLD (conquestador)
88' Rebuilt Primary Injector- $100 SOLD (ocidious213) includes stock FPR w/sale
TBI throttle body top hat with fuel pressure gauge- $25 SOLD (BuGG)
Rebuilt oil cooler lines with thermo-tec heat shield hose- $50 SOLD (Infamous907)
Used Jet valve elimination kit- $15 SOLD (Crazy Larry) comes with Lizard Towel, lol
(2)solid crank pulleys w/o AC guide- $50each SOLD (BuGG)
(1) Funk Lock- sold
(1)88' transmission waffle pan- $25 SOLD (BuGG)
10" Montero oil cooler(fits stock oil cooler location)- $20 SOLD (Infamous907)
Conquest Tail lights- $100 SOLD (BuGG)
(1)Auto-down drivers side window switch- $50 SOLD (89StarquestNYC)
Cloth front and rear seats including door cards 9/10- $400 SOLD (chassispuke)
(1) Black carpet- $80- sold
(3) wheel caps for our rims- $10 each- sold
D2 Rear camber plates- $40- sold (zafalla)
83 hood, missing front vent, original faded paint,common heat depression from turbo- $340 SOLD
Turbo door handles- $50- sold
(1) 7" front wheel, polished lip, black center- $50- sold
83 Radiator(no coolant sensor bungs)- $60- sold
88
Radiator
- $60- sold
Black bezel- $40 hairline crack on both sides SOLD (Turbo Cary)
Black center console- $60 SOLD (Turbo Cary)
Flatty mudflaps-$75- paint cracked and peeling, no rubber cracking, very flexible- sold
Sunroof-$40- sold
stock IC lines except accordian pipe- $40- sold
(2) 4bolt axles-$80pair sold (Carmaniac55)
(1) Turbo Heat Shield- $25 SOLD (93 GCX Turbo)
Baffled G54B oil pan- $40 SOLD (hopeful noob)
(1)88' Leather Shift Knob- $30 (BuGG)
Apexi S-AFC- $120 (CarlosFley)
Apexi AVC-r- $100 SOLD
240mm ACT Clutch, pressure plate and throwout bearing~30K hard miles SOLD
ARP head bolts(used)- $60
86' Factory service manual for conquest- $25
Used Schneider HD valve springs- $30
(1)rebuilt Mitsu alternator with AC delete bracket and belt- $40
(2) 6bolt axles- $120pair
Rebuilt 6 bolt axles- $150pair
(2)88' 5spd Transmission(hard 3rd and synchros going in the other)- $50each
FIP Short Throw Shifter- $80
Porte
d Big 16G Turbo, no shaft play- $350
W/Walbro Fuel Pump and inline fuel filter
NGK Wideband A/F monitor mounted in temp indicator on dash control- $150
Fleabay-New rising rate fuel pressure regulator- $20
Maft Translator and 3" GM MAF sensor- $175
Custom Fiberglass/Foam Hatch floor(black) with spare tire cut out and battery relocate box(local pickup)- $100
88' Black auto seatbelt headliner w/o sunroof- $50\
G54b short block (good block/crank, bad blow by)w/o oil pump/timing components-$150
(1) AC fan- $20
(1) 88 LSD Diff w/o pinion gear- $40
Maroon Radio bezel-$40
(1)Dash Cluster Cover-$20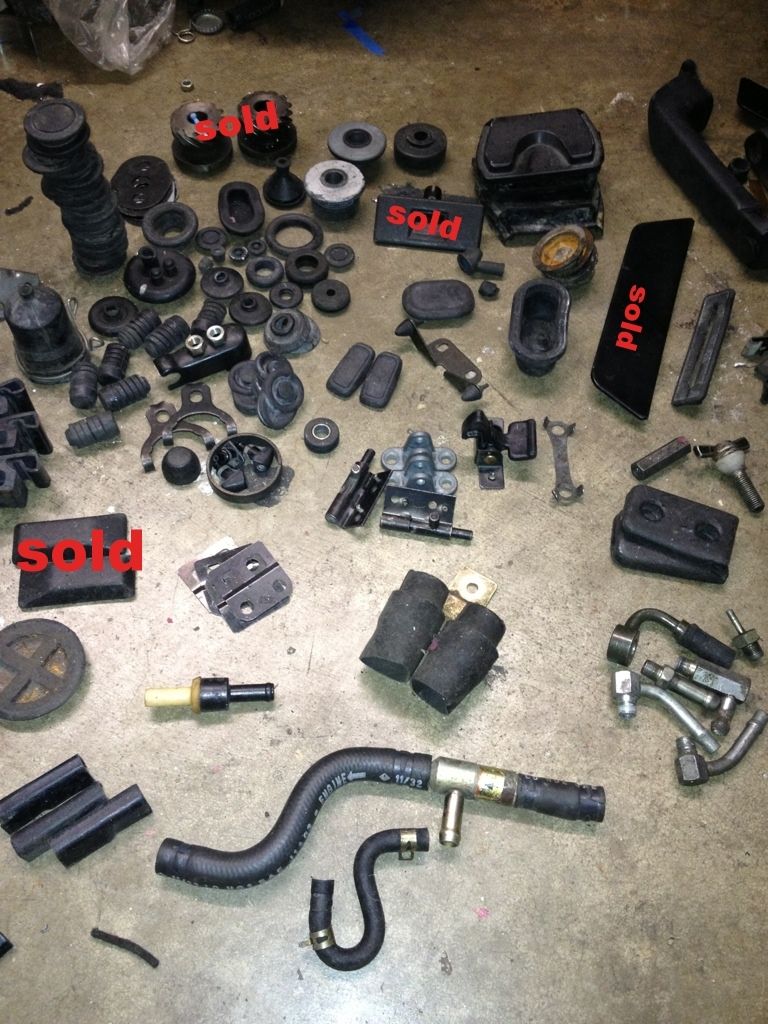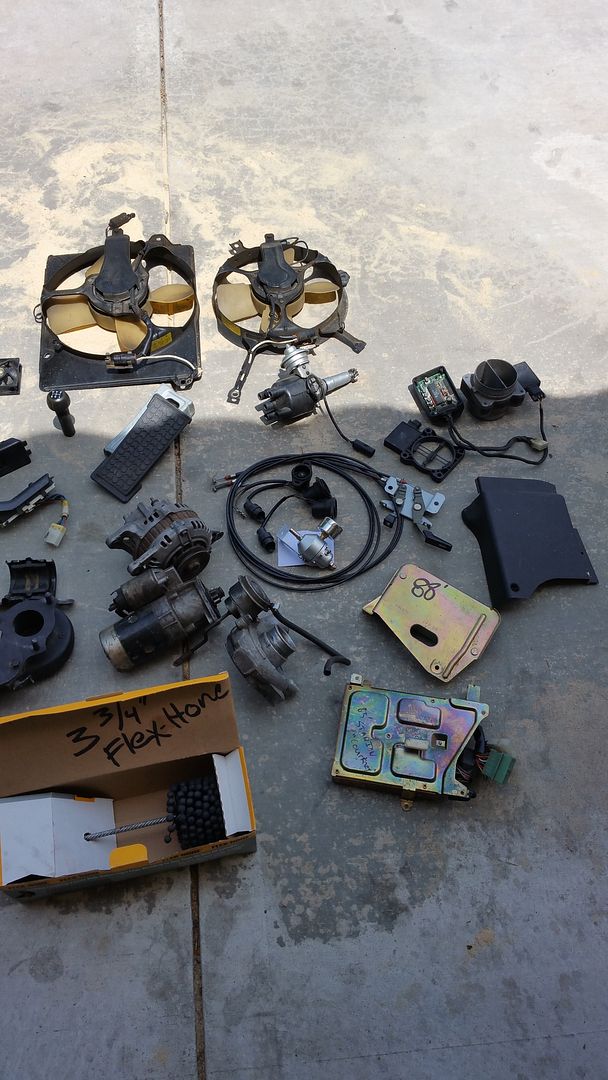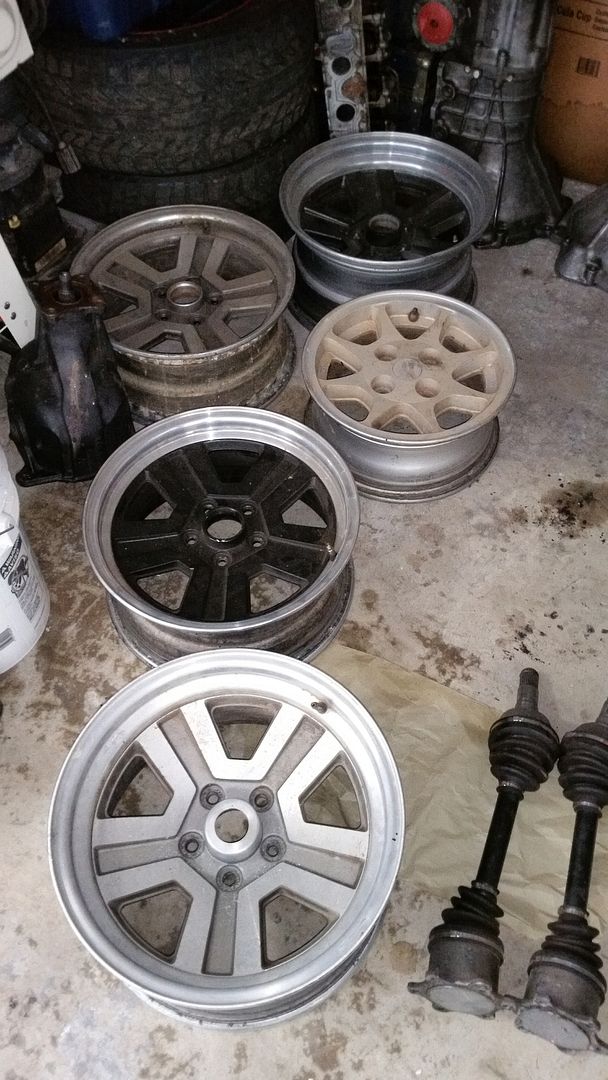 Edited by MPGorBOOST, 14 April 2016 - 10:14 AM.