0

1988 Starion
Started by
NikoFab
,
May 01 2012 10:17 PM
Posted 01 May 2012 - 10:17 PM
---
Posted 01 May 2012 - 11:49 PM
Really?!

"goods
t3 turbo.. 83 corner lights. 5 speed
New break line &break pads all around.
Turbo timer..bored out intake...ajustible shocks in front.
Slaugterd roters... 8in rims in the front..with some alright tires in front.
10 1/2 in the back and a custom set of wheels for back..
tomi Fuel pressure regulator.. 108k miles.. clean interior...
just wont it gone tired of the car!
got the tittel"


D3UC3S, on 30 January 2014 - 07:13 PM, said:
At one point I was boiling the rear tires off and a state patrol asked me if I needed help. I never let up and weaved and drifted through the lawlessness and barely made it home. Thousands of cars stranded wherever they stopped and thousands of people walking from crashing or running out of gas. It was like the apocalypse. Pedal down and aim it towards the ruts and away from scattered wreckage. It was an experience I dominated and will never forget


Currently Have: 1988 Conquest RO4,1985.5 Starion ESI R52, 1988 Conquest RO4 auto- parts car, 2000 BMW M5, 2013 F150 5.0L 4x4 360hp, 1994 ZX6 ninja, 2012 Altima 2.5S
No longer have: 1988 Conquest X15,1983 Starion R04,1988 Starion R04, 1986 Conquest R04 (Sold in 1999), 2002 Escalade 6.0L AWD 425HP.
My Youtube channel
The Lee song
---
Posted 02 May 2012 - 12:05 AM
Slaugterd roters?

---
Posted 03 May 2012 - 11:36 AM
dat spray paint on wheels

---
Posted 03 May 2012 - 12:07 PM
Is this guy really asking $3k for the car???? Is he serious?????

---
Posted 03 May 2012 - 12:52 PM
i like the " im so lazy i painted my damm tire" look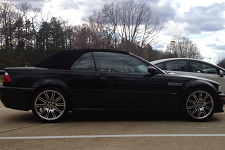 ---
Posted 03 May 2012 - 12:53 PM
There is overspray on the tires

---
Posted 03 May 2012 - 05:04 PM
I feel horrible for this car.. :/

---
Posted 03 May 2012 - 07:03 PM

justinfee101, on 03 May 2012 - 05:04 PM, said:
I feel horrible for this car.. :/

Couldn't agree more
---
---
0 user(s) are reading this topic
0 members, 0 guests, 0 anonymous users
game search | music, video, tech search | vitamins, drugs and health supplements | great deals on clothing and accessories | car and truck parts