I feel as though there are many questions that have been answered through the years regarding the MPI conversion process but have been lost through changes in the site. Due to the format of this I will be posting this in multiple parts,
In the bigger picture, The MPI conversion is the process of converting from the ECI Throttle body injection setup which consists of a primary and secondary injector. Depending on the date of manufacture, your SQ will either be equipped with sequential injection or alternating injection.
Sequential injection will be utilized in 87.5 - 89 vehicles according to production date and will be seen with a Green and Black injector.
Alternating injection will be utilized in 87.5 and below with two injectors of the same color.
Both will do the job great when you leave the car stock. But If you're reading this you already know the flaws of TBI.
Now for the fun bits!
MPI conversion consists of 4 main principles,
- Intake manifold
- Fuel delivery
- Intercooler piping
- Engine management
Intake Manifolds are the easier part of the equation. The selection boils down to availability, which one can you find so to speak.
Here is a list I've complied through the years and I'll keep it simple. I will add pictures as I go along.
OEM Mitsubishi Magna
- Most commonly found, and the most articulate of the Intake manifolds. The Manga Intake manifold is not a direct bolt-on. There have been many variations in the years as to how these are modified from a FWD application to a RWD application. More often than not you will find a Magna that has been already modified to fit. There are some that require an adapter plate and some that have been welded and milled to acommodate the larger rear coolant passage that the Australian G54 heads have. *be aware* there are Magna's that WILL NOT FIT due to longer intake runners that interfere with the brake booster and master cylinder.
Will fit
Fuel Injection Pro Hurricane
- This manifold is no longer in production and is a custom made unit. This Manifold has been engineered to be a purpose built direct bolt-on MPI manifold for the G54. Although almost impossible to be had many people here have been running them with success both on the street and at the track.
EIP tuning Cannon -
There are two versions of the Cannon. The "street" and the "race". The main difference between them is the Intake Plenum and runner length. The "race cannon" has a larger plenum with slightly shorter runners optimized with emphasis for High RPM and High volumes of air. The street version is not that much different, the plenum volume is slightly less and runner length is slightly longer with higher port velocity in mind for driving on the streets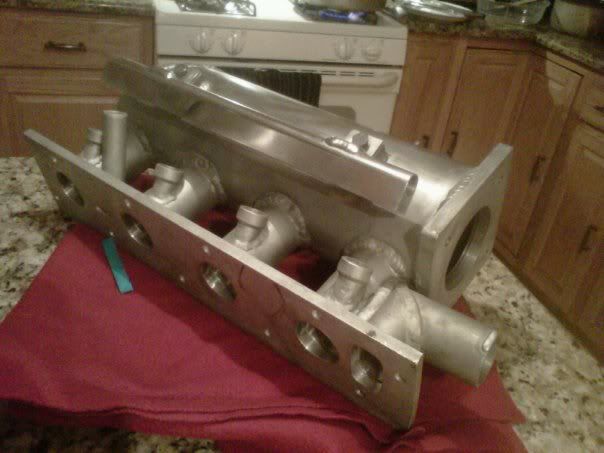 Chad's MPI manifold -
This is another purpose built MPI manifold that has been engineered to perform well through all conditions whether on the street or the track, the R&D put into the making of this has been pushed to the limits of the space constraints of the SQ engine bay.
Gato Performance -
I don't know too much about this manifold but from the years of talking to members equipped with this unit, there has been nothing but good numbers produced with this setup. Just like all the Purpose built Intake manifolds, the fit is clean and more inclined towards the Race applications.
Top End Performance MPI -
Well.... It's a Stock TBI manifold modified with 4 injector bungs and a new fuel rail. The concept proved will in the late 90's and worked for it's intended purpose but the price was and still is outrageous for something with minimal amounts of effort put into it.
There are others that I have not mentioned such as
Maxboost's MPI manifold -
There are variations of his manifolds and although I've never seen them in person, the craftsmanship and concepts are very innovative.
Which ever one you can get your hands on is going to dictate the direction for your build. If you have a choice of which to select, select according to your power expectations and your driving style.
I have personally owned a Magna, EIP Race Cannon, and am currently using one of Chad's MPI manifolds.
Edited by Bag-O-Chips, 23 October 2012 - 05:44 PM.