This is one method that lets you do this repair without pulling the water pump and will loose a lot less coolant this way.
First remove the old hose. Here a set of locking pliers aka vise grips will help hold those spring clamps open...
Slide both clamps back onto the metal tube. This way you will be able to get right back on them with a pliers later
Slice the old hose with a razor blade...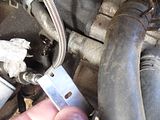 Next up you want to free the metal tube so you have room to install your new hose. Loosen this clamp...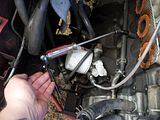 Yes it is harder with the exhaust manifold installed, but a good 1/4 inch drive extension with a u-joint like in the picture will make easy work of this.(Also a gear wrench will work awesome for this step) You may choose at this point to completely remove the bolt for the clamp for even more room. But you don't not HAVE to because the tube will slide backwards in the loose clamp one you do this next step...
Remove the other bolt that hold the tube..
Now the tube will have quiet a bit of free play and you can slide your 5/8" hose over the water pump...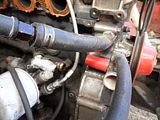 Next grab the tube and push it into the hose...
Almost done. Grab the spring clamps and slide them into postion...
When sliding the tube into the hose, watch that you do not insert to far or the tube will rub near the back of the block by the heater core hoses. The heater core hoses can all stay attached during this.
Edited by JohnnyWadd, 18 August 2013 - 06:47 PM.