0

Posted 29 June 2018 - 01:08 PM
Bought a funk lock off him. Quick replies, and SUPER FAST SHIPPING!! Thanks a bunch!!

---
Posted 26 September 2019 - 11:03 PM
Bought a brand new clutch from him. Killer deal and great business transaction!!!

88 Fiji Blue -TSi
Zoom clutch, Fidanza flywheel, Stedebani shifter, KSport coilovers, ST swaybars, abs delete, a/c delete, cruise delete, JVE, BSEK, TEP steel brake lines, LSP braided cooler lines, CX Racing radiator, MK1 silicone hoses, MK1 pullies, *DM hard pipes & intercooler,14G turbo, ported exh. manifold, MAF Translator, 3.5" GM maf, Turbo XS RFL bov, *DM 3" exhaust, Cusco front strut bar, TEP rear strut bar, Enkei 92's, HKS turbo timer, AEM wideband, AEM boost gauge, AEM oil pressure gauge, SPA fuel regulator, Hallman boost controller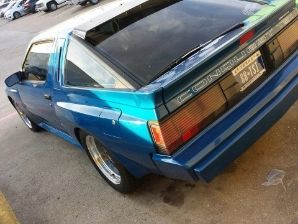 JohnnyWadd, on 04 March 2010 - 10:01 PM, said:
my shaft was big i dont know what your talking about.

<SOS>
http://sosmanuals.minagera.org/
<SQ Garage>
http://www.starquestgarage.com/
---
Posted 16 October 2019 - 11:27 PM
Bought spindles from him, good price and shipped fast.

KZ @
STARCRUISERDRIVEYARD.BIGCARTEL.COM
---
---
1 user(s) are reading this topic
0 members, 1 guests, 0 anonymous users
game search | music, video, tech search | vitamins, drugs and health supplements | great deals on clothing and accessories | car and truck parts