Here is how to get the front seat in a 18x18x32" box for shipping UPS fairly cheap. The whole idea of this was to get the dimensions of the individual components to the mininal.
Tools you need. The marker is to match mark stuff to help in reassembly..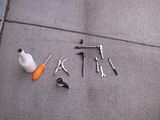 Rails come off with four bolts...
Getting the plastic trim off use the screwdriver...and the exacto knife with some clear tape over the blade to prevent marring..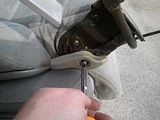 To sepearate the two halfs...
Hog rings pull off with pliers...frees up the flap that is held by the metal rod thing..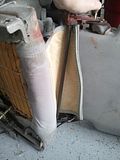 Also four 8 mm hex key bolt must come out..to free the main hinges..
But first...On the passenger seat is a cable with two 10mm nuts that adjust the free play, loosen those with the seat fully reclined backwards (more free cable) That will let you remove the "L" Shaped anchor. This part is best done right after you pull the trim parts off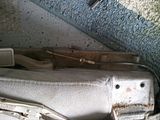 Now you can also unbult the main hinges from the upper halfs..
Those bolts will have a panel covering them...so...look at the back of the upper seats there are two screws on the bottom of the panel..when you take those screws out the cover on the seat backs will slide downward and off...you will see this...
Now yo ucan use the 12 mm wrench and 10mm socket and undoe the headrest and the side peices and the under the knee peice. Some of those hog rings have to come off too and that will free up the flap.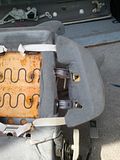 Box carefully...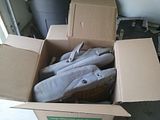 More pictures in my album.
Edited by JohnnyWadd, 21 May 2012 - 03:39 PM.